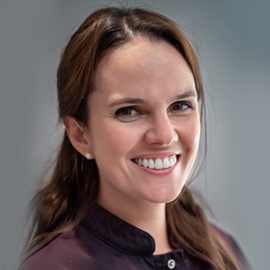 GDC No. 205394
Dental Surgeon
DDS, MS (Instituto Superior de Ciências da Saúde Egas Moniz 2010)
Kimberly earned her DDS and MSc degree in 2010 from Lisbon, Portugal. After three years of general practice in London and part-time teaching in Lisbon, she joined the New York University College of Dentistry (NYUCD) in 2013 and completed a full-time Certificate and a subsequent Fellowship Prosthodontics. In 2015, she joined the Advanced Education Program in Prosthodontics and received her Prosthodontics Specialty Certificate in 2018.
During her residency, Kimberly was appointed Chief Resident, she served on the Graduate Council for Ethics and Professionalism, presented numerous scientific posters at major Prosthodontic meetings in the U.S. and was the recipient of several awards for outstanding academic performance and excellence in Prosthodontics including the Harold Litvak Award (2017), the Adisman Award (2018) and the Inaugural Gary Goldstein Award of Excellence (2018). Following successful completion of her Specialty Certificate, she was employed as a faculty at NYUCD, as an Assistant Professor of Prosthodontics.
Kimberly particularly enjoys working within a multi-disciplinary team environment to provide the best comprehensive dental care, so she can help her patients achieve optimal oral health, function and aesthetics. She is passionate about all fields in Prosthodontics, and takes extra care in assisting nervous or anxious patients with her gentle touch.
Kimberly is a member of the American Academy of Prosthodontics, the American Academy of Maxillofacial Prosthetics, the British Dental Association and the Portuguese Dental Association. She regularly attends National and International conferences and has some of her research in the process for manuscript submission.
When she is not practicing Dentistry, she enjoys spending her time with her family and playing tennis.