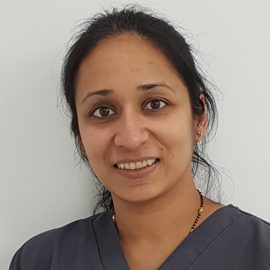 GDC No. 208337
Dental Surgeon
Masters in Dentistry (Aarhus, Denmark 2007)
PgCert Fixed and Removable Prosthodontics (King's College London 2009)
MJDF (England 2013)
PgCert Restorative Dental Practice (Eastman Dental Institute 2014)
PgCert Dental Sedation and Pain Management (Eastman Dental Institute 2017)
PgDip in Implant Dentistry (Eastman Dental Institute 2020)
Passed with Distinction and awarded the Prize for Best Student for the PgDip in Implant Dentistry.
Achieved Distinctions for the Postgraduate Certificate in Dental Sedation and Pain Management and the Postgraduate Certificate in Restorative Dental Practice.
Her keen interest in Prosthodontics and restoration of teeth motivated her to further enhance her skills by undertaking the 9-course Kois curriculum at the Kois Centre in Seattle, USA in 2011.
Awarded the GC Prize for Clinical and Academic Excellence in 2014.
Graduated from University of Aarhus, Denmark in 2007 and worked in private practice for 5 years in Denmark.
Outside interests: Cricket, cooking and spending time with her family.