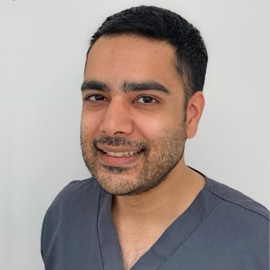 GDC No. 211134
Specialist Prosthodontics
BChD (Leeds) MFDS RCS (Edin) PG Dip Restorative Dental Practice (EDI, Distinction)
Samir graduated from the University of Leeds. He went on to become a Senior House Officer in Maxillofacial Surgery at Hull Royal Infirmary helping with cancer, trauma and surgical dentistry patients. During this time he gained his Membership to the Royal College of Surgeons Edinburgh.
He then practised in general dentistry, whilst completing further exams culminating in a Diploma in Restorative Dental Practice with Distinction at Eastman Dental Institute.
Samir is nearing completion of a 4-year specialist training programme in the field of Prosthodontics. This is the part of dentistry that focuses on restoring damaged or worn teeth and their replacement with implants, bridges and dentures.
Samir has experience of treating full-mouth complex cases. He is interested in using modern techniques to conservatively and aesthetically restore teeth. He has a calm and straightforward approach and has worked in Wimbledon and Surrey for a number of years.