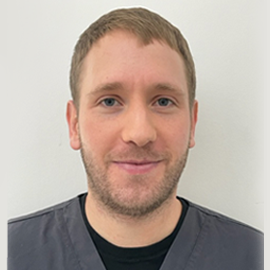 GDC No. 244930
Specialist Endodontist
BDS, MJDF, MClinDent, MEndo (RCSEdin), MEndo (RCSEng)
Charlie graduated with a Bachelors of Dental Surgery from King's College London in 2013. After completing foundation training in the West Midlands he furthered his experience with a senior house officer post in maxillofacial surgery at both Gloucester and Cheltenham Hospitals, before more general dental practitioner jobs in Sussex. He gained an MJDF (Membership in the Joint Dental Faculty) qualification from the Royal College of Surgeons of England in 2015.
Further interest developed in restorative dentistry, completing a one-year postgraduate certificate in Endodontics in 2016. Later that year, he was awarded a place on the very competitive MClinDent four-year specialty training programme (leading to be a specialist Endodontist) from the world-renowned Eastman Dental Hospital, with an affiliated national training number (completed in 2020).
Since 2017 Charlie has limited his practice to Endodontics, accepting internal and external referrals for complex root canal treatment procedures and endodontic surgeries, as well as diagnosis of dental pain, trauma management and internal bleaching.
Charlie has passed both Membership in Endodontics examinations from the Royal Colleges of Surgeons of England and Edinburgh, which are the highest possible qualifications in the field of Endodontics. He has also been appointed to teach and mentor postgraduate dental students on the two-year taught Diploma in Endodontics from the Eastman Dental Institute.
Charlie has a calm manner and takes time to fully discuss all the options, including the proposed treatment, so his patients can be at complete ease during the treatment process. He prides himself on providing precise technical work to provide the best level of care to his patients. In his spare time, he likes to play golf, experiment with cooking and enjoys going to the latest theatre shows and museum exhibitions.